The Immunization Program works to reduce vaccine-preventable diseases by improving immunization coverage rates via case investigation, education, community collaboration, immunization record assessment, and an immunization registry. If you have any questions about your immunizations or your child's immunizations, our Immunization Coordinator is available to answer your questions. 

Vaccine Schedules 
Getting yourself or your child vaccinated is often part of routine doctors visits. Learn more about common concerns and common questions when making the decision to vaccinate. 

School Requirements
California schools are required to check immunization records for all new student admissions at transitional kindergarten (TK) and kindergarten through 12th grade and for all students advancing to 7th grade before entry. Parents must show their child's immunization record as proof of immunization.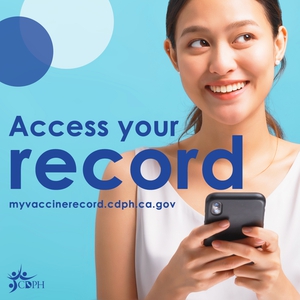 School Vaccination Rates | Child Care | Kindergarten | 7th Grade

Vaccine Records 
If you are looking for your vaccine record, you can access a digital copy from the California Immunization Registry (CAIR) portal. It is possible that some or all of the vaccine doses you received were not reported to CAIR and your record may not be complete. For assistance in finding your records, please call 707-464-0861 to speak with the Immunization Coordinator.
California Immunization Registry (CAIR)
AB 1797 requires California providers to enter immunizations they administer as well as a patient's race and ethnicity into a California immunization registry (CAIR or Healthy Futures/RIDE). Enroll in CAIR today! To learn more, see the AB 1797 FAQs.
CAIR-ME and Medical Exemptions
In California, parents and medical providers need to use the California Immunization Registry Medical Exemption (CAIR-ME) website to request, issue, and manage medical exemptions for children in school or in child care. To request a medical exemption for your child,
follow the instructions. Please note that is must be a provider who is California-licensed and an MD or DO to issue the exemption. 

Vaccines for Children (VFC) Program
The VFC program helps families by providing vaccines at no cost to providers who serve eligible children from birth to 18 years old. Find a Vaccine for Children (VFC) Provider near you or call us at 707-464-0861 for help accessing vaccine services for your child. 
---
County of Del Norte
Department of Health & Human Services
Social Services Branch
Public Assistance /
Employment & Training Branch

880 Northcrest Drive

Crescent City, CA 95531

Phone (707) 464-3191

Fax (707) 465-1783

880 Northcrest Drive

Crescent City, CA 95531

Phone (707) 464-3191

Fax (707) 465-1783

455 K Street
Crescent City, CA 95531
(707) 464-7224
(800) 446-4408 (toll free)

400 L Street

Crescent City, CA 95531

Phone (707) 464-0861

Fax (707) 465-6701