Get Tested. 
We recommend getting tested as soon as possible if you are experiencing COVID-19 symptoms, even if you are vaccinated. 
You should also get tested if: 
You have been in close contact with someone who has COVID-19
You have taken part in activities that put you at higher risk for COVID-19, such as travel, attending large gatherings, or being in crowded indoor settings
Your employer requires routine screening
---
Free Rapid Tests
A limited amount of free rapid tests are available through Public Health. Please call to check availability at 707-464-0861. 
They can be picked up at: 
400 L Street
Crescent City, CA 95531
---
Testing & Treatment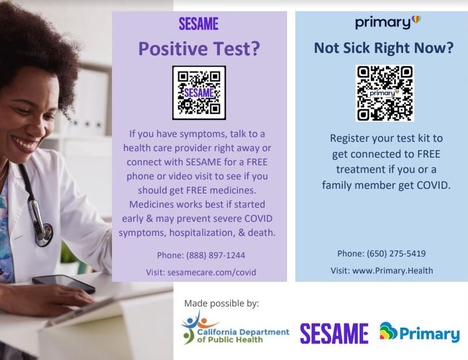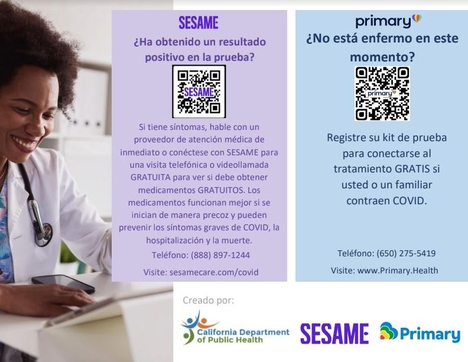 OptumServe
As of February 6, 2023, the OptumServe testing site is no longer available to our community for COVID-19 or flu testing. See the Public Service Announcement for more information. 
We recommend the use of rapid at-home testing as an alternative option. Free COVID-19 test kits are available at Del Norte County Public Health. PCR testing is still available through the sites below. If you do test positive and are seeking treatment for COVID-19 but do not have insurance or cannot reach a provider within 24 hours, you can visit https://sesamecare.com/covidca or call 833-686-5051 for a free virtual or phone appointment. COVID-19 treatments are very effective at making the infection less severe and making it less likely that you will need to go to the hospital. 
CVS Testing Drive-Thru 
CVS is offering testing to anyone age 12 or older. Minors under 16 must be accompanied by an adult. Testing is FREE and is available 7 days a week. This is available for those who are symptomatic or are close contacts to positive cases.
You can schedule an appointment at the CVS website: https://www.cvs.com/minuteclinic/covid-19-testing
You can learn more about eligibility and requirements at the CVS website as well: https://www.cvs.com/minuteclinic/clinic-locator/covid-19-testing/crescentcity-covid-10478.html
Provider Testing
Most healthcare providers also offer COVID-19 testing to patients who meet testing criteria. If you need to be tested for COVID-19, you can start by reaching out to your normal healthcare provider. Children, especially, should seek testing in consultation with their healthcare provider.