Recreation Department
---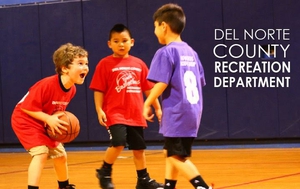 The primary focus of the Recreation Division of the Administration Department is to enrich individuals, families and the community through the provision of services, facilities, and programs that improve the quality of life in Del Norte County.
---
RECREATION DEPARTMENT CORONAVIRUS UPDATE
In response and in alignment with current Center for Disease Control and Prevention (CDC), California Department of Public Health (CDPH), and Del Norte County Public Health, the Del Norte County Recreation Department will be postponing programs and closing indoor recreation facilities to reduce the spread of the novel coronavirus (COVID-19).
Effective immediately, all upcoming athletic programs including the Del Norte County Adult Basketball League and Teen Basketball League will be postponed until further notice. During this postponement there will be no practicing, games, or any other organized athletic activities permitted.
The Del Norte County Recreation Gymnasium will be closed until future notice. The Recreation Department understands the Gymnasium is an important amenity within the County of Del Norte. We know that closing these facilities will cause difficulties for the many residents who rely on the Recreation Gymnasium for fitness, and social connections. All upcoming facilities events will be cancelled including private party rentals, athletic practice rentals, and Del Norte Youth Wrestling. If you have rented the Gymnasium and would like to reschedule for a later date or refund, the Del Norte County Recreation Department would be glad to accommodate accordingly.
Customer service support through the Recreation Department will continue to be available by phone during regular business hours. For more information please call (707) 464-7237.
Given the seriousness of the current events, the Del Norte County Recreation Department believes this is the most responsible choice we can make to best serve the interests of Recreation Employees and the community. Thank you for your cooperation and understanding during this difficult time. We will continue to update you on program and facility changes as decisions are made.
---
The Del Norte County Recreation Department Office is open:
Monday - Friday 8:00am - 5:00pm.
Register for programs online or in office (only cash/check)
981 H Street Suite 250
Crescent City, CA 95531
The Del Norte County Recreation Department Office is open:
 Monday - Friday 8:00am - 5:00pm.
Register for programs online or in office (only cash/check)
981 H Street Suite 250
Crescent City, CA 95531
(707) 464-7237